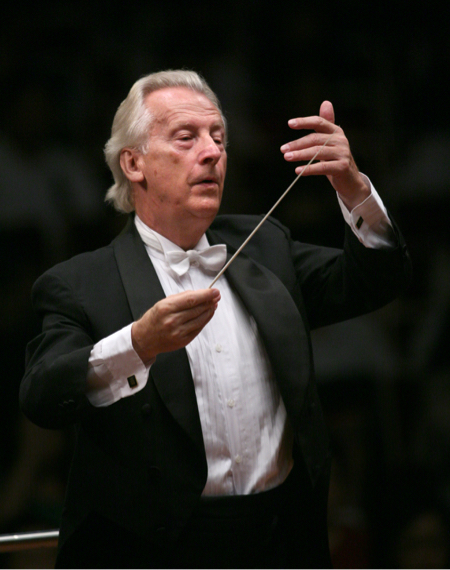 Conductor Laureate
Günther Herbig
Günther Herbig divides his activities today between Europe, North America and the Far East in a career that has been equally distinguished on all three continents. Herbig's musical training took place in Central Europe where he studied with Hermann Abendroth, Herbert von Karajan and Hermann Scherchen. In 1972 he was named General Music Director of the Dresden Philharmonic and held the same post with the Konzerthaus Orchester Berlin from 1977 to 1983.
In Europe Herbig became Principal Guest Conductor of the BBC Philharmonic in 1979 and was soon invited to conduct such major ensembles as the Philharmonia Orchestra London, the London Symphony, the Royal Philharmonic London, the Orchestre de Paris, the Orchestre de la Suisse Romande in Geneva, the Residentie Orkest in The Hague and the Israel Philharmonic. In 1984 Herbig moved to the United States and served for ten years as Music Director of the Detroit and later the Toronto Symphony Orchestra. He has since conducted the orchestras of New York, Chicago, Boston, Philadelphia, Cleveland, San Francisco and Los Angeles among many others. He has toured the U.S. several times with the Detroit Symphony Orchestra, and in 1989 conducted the orchestra on a European tour. In 1991 he led the Toronto Symphony to Europe after having toured with them in the USA, Australia, Singapore, Taiwan and Japan.
Herbig has recorded more than 120 works, including cycles of Haydn and Brahms symphonies. His releases include Beethoven's Symphony Nos.3 and 5, Schubert's Nos.8 and 9, Brahms's No.1, Mahler's No.5 and Strauss's Ein Heldenleben with the BBC Philharmonic and the Royal Philharmonic London. As Chief Conductor of the Deutsche Radio Philharmonie, he recorded between 2001 and 2006 several symphonies of Bruckner and Shostakovich. He has been the Conductor Laureate of the Taiwan Philharmonic since 2010.